How to Plan the Perfect Date for your Partner
As simple as it may sound, planning a perfect date can be sweat breaking. Whether you are taking your partner for the first time or just another regular date, the event should always be special.
A perfect date is unique in its own way. However, this does not mean that it should be extravagant in nature and too complicated to plan for. All you need are some simple tips. Here is your guide to planning the perfect date.
1) Know your partner
Knowing your partner is key in defining the person's preferences. Remember your primary goal is to enjoy every aspect of the dream date. And, of course, to strengthen the bond between the two of you. Meaning, if one's interests are not taken into consideration, the date can go sour.
Prior to the date, a simple "would you rather" question works perfectly in determining your partner's preferences. You can ask them whether they will prefer being adventures or just reserved. You can also go ahead and ask about the ideal places that can work best for them and many more. In fact, the questions will not only enable you to define the kind of personality you are dating, but they will also answer other key questions during the planning process.
2) Go for the perfect date in the calendar
Choosing a perfect day is more important than even the venue availability. In fact, it should come first before any event planning. An ideal date should not be highly competitive. It is a prime date when both of you are free from any corporate work. When deciding on which date to work with, carefully consider factors such as seasons and holidays.
3) Do the logistics
Prior to the date, plan for any single dime that is to be spent. Have in mind the transport and accommodation costs plus any other expenses that may find themselves in your list. A backup plan helps where the first option fails. As such, know when to incorporate a backup plan and the expenses attached to it.
4) Make reservations
Prior reservation is key in eliminating any hitch that may arise during the date. The bookings that you make will define how complex the dream date is. However, a perfect date may not mean taking a flight to oversee countries and having high-class meals from deluxe hotels or restaurants. Depending on your preference, it may mean just some few hours of the day in movie, bar or club. So before clouding your booking checklist, know where you want to go to and the size of the pocket.
Sydney restaurants that boast a nice view are usually booked out during peak season. It's a good idea if you provide 2-3 weeks notice and book ahead to ensure that your plan is on track. Even if it falls through, you are still able to go with a second option before it is too late.
5) Create an itinerary
Creating an itinerary is necessary when you are planning for a unique and complicated dream date. It helps in staying organised and in the creation of the outline of everything that the two of you will be part of. With an itinerary, you can easily cross-check the operating hours of the restaurants and the movie store, the driving distances and any other thing that can mess up the whole event if not carefully planned.
When creating the itinerary check out for the things you may forget. These include essentials such as phone chargers and necessary clothing that matches your preferred dating spot.
6) Keep your partner notified
Sometimes we plan for surprise dream dates. However, most of them turn out messy more so when the planner lacks background information of the partner's schedule. Notifying your partner helps in psychological preparedness. Do not get it wrong. You may not need to share with him or her the whole thing in order to pass through all the above processes. Depending on who you are dealing with, there are high chances that you can be planning a whole of these without including your partner.
Planning for a perfect date is key in realising a fun-time and memorable experience. However, you should not find it tough realising your dream date on transportation grounds. At Get Chauffered, we have got all you require to travel across Australia in sheer comfort. We've got a wide range of exotic cars and limousines for hire with your very own personalised chauffeur services. Our quick and efficient chauffeur process makes your surprise date more enjoyable.
Use our extremely user-friendly booking system to instantly lock in your surprise date or call us on 1300 553 376 for assistance.
5-Star Luxurious Hotels in Sydney
Are you planning to travel to Australia? Sydney should be your destinations. Sydney has been rated as the best travel destinations in the world. It is built on around a stunning harbour and it is among the world's leading metropolitan cities. Travelling to Sydney, whether with friends, family or alone will offer a great adventurous experience. In Sydney, you will find the world's most renowned performing arts theatre that you can enjoy a night culture. If you are travelling alone, you can enjoy a therapeutic walk along the Sydney Harbour Bridge as you watch the beautiful blue waters with a reflection of the city lights. Don't miss Sydney Vivid light shows in when you get the chance. During the day, you walk along the beach and enjoy the sun. With so much beauty and splendour in Sydney, it is only fair that you also get the best place to rest in the evening after an exciting day.
Here's your complete list of the 5-star luxurious hotels in Sydney.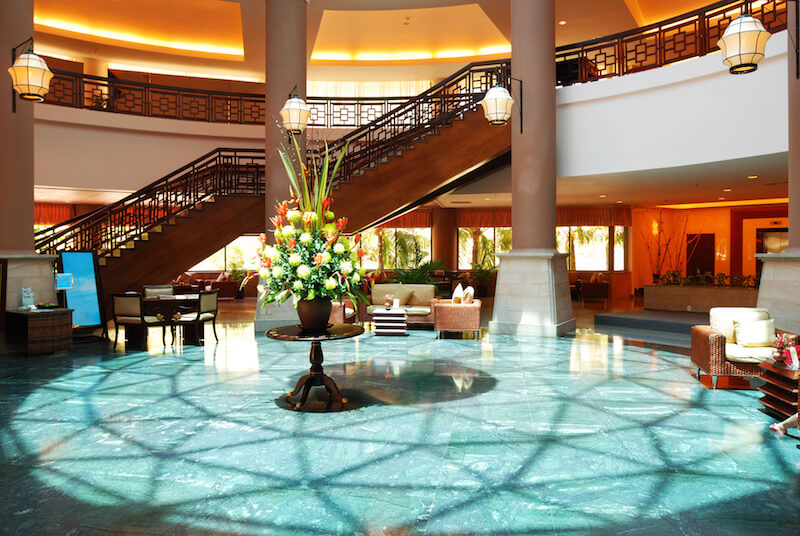 InterContinental Sydney
InterContinental is a hotel that combines modernism and classical heritage. It was built in the 70s and was initially used a Treasury before it was renovated into a hotel. Since it was built in the 70s, its architecture is a sandstone skyscraper structure that enhances the colonial design. However, its rooms have been modernised with the current technology. It has a big luxurious swimming pool on the 31st floor that every guest enjoys while staying at the hotel. It is strategically located a few minutes from the Government House, Circular Quay and the Sydney Opera House. Their prices are fair especially during the low season, but they can go up during the peak season.
Park Hyatt Sydney
If enjoying the view is a major priority for you, then pick Park Hyatt Sydney hotel. It is ideally located at the centre of the city close enough for you to walk to Circular Quay, or board public transport to drop you at Bondi Beach. This luxurious hotel is architecturally designed with modern art, enhanced with an earthly design that has dark chocolate, beige and cream shades. The amenities at the hotel are luxurious and stunning. Every room in the hotel has a fantastic view of Sydney Harbor and the Sydney Opera House. At the rooftop, there is an art décor fashioned swimming pool.
Shangri-La Hotel
This is the 90's designed hotel that has retained most of the early years of dark and complex design with cherry blossom rugs, which is contrary to the current trends. It is one of the most luxurious yet reasonably priced hotel in Sydney. It has a total of 565 rooms with around 30 of them having a spectacular view of Sydney Harbor. It is located at the centre of the Circular Quay and walking distance away from major tourist attractions. The Shangri-La Hotel has a warm indoor swimming pool that makes it ideal for a family to hang out at.
Four Season Hotel Sydney
The Four Season Hotel Sydney is ideally positioned to make it possible for you to have a view of Sydney Harbor Place, Sydney Opera House and the Museum of Contemporary Art. The location is also strategic since you can easily get public transport from the hotel and tour the city with ease. The hotel has a classic modern design with vast chandeliers, oak walls and a stunning art piece at the lobby. The harbour extends along the hotel allowing you to have a better view of the sea.
Hilton Sydney
Hilton Sydney is also located at the centre of the city with close proximity of major tourists' sites. In addition to many spacious rooms and suites in the hotel, it also has business rooms and conference rooms where you can discuss business or hold an event from. The hotel has a rooftop bar where you can enjoy cool music as you view the busy city while sipping your drink.
To ensure you also travel in style and luxury, you should hire a limousine at Get Chauffeured. Hiring a limousine will make it easier for you to move from one place to another while in Sydney. They have a fleet of cars that you can choose from and they can pick you up at your preferred locations. Their drivers are friendly and professional, their main goal is to ensure you get to your destination safely.
Contact us for a free quote now on 1300 553 376.
Vivid Sydney Guide 2019
If you are looking for the place where inspiration will shine in 2019, then Vivid Sydney is that place. The festival is returning for the eleventh time and it will take place between 24th May and 15th June 2019. Currently, it is the most loved festival in Australia and within the time it has existed, it has managed to bring together music makers, light artists and brilliant minds from all parts of the world to show their creativity. By attending this festival, you will see the city transforming, discover new forms of art, spark new ideas, ride sound waves and start new conversations with people from other parts of the world. In fact, the festival will help you take your imagination to a different level. Here is what to expect.
Witness the Vivid Precincts
All you need is to pack a high-quality camera and capture the Sydney transformation through work of art for 23 nights. During the day, this harbour city looks gorgeous and the creativity of artists and designers from all parts of the world has helped create light-art sculptures, magical installations and projections in the unexpected places, therefore, making it even more inspiring. Even though most of the dark sparkle is highly concentrated in the Darling Harbour and Circular Quay, Vivid Sydney has successfully expanded some other city precincts including Luna Park, Barangaroo, Taronga Zoo Sydney, Chatswood.
Follow the Vivid Light Walk
The Vivid Light Walk will guide you on how to enjoy the great light installations. This route stretches for over two kilometres (1.2miles), starting at The Rocks to Sydney Opera House via the Royal Botanic Garden. The interactive light installations add up to many hours of fan. You will have a lot to see and therefore plan your routes or think of returning to the place for more days.
Experience Vivid in a Unique Way
Try some more recipes during the Vivid Sydney. Chefs in the local restaurants use quality Australian ingredients and amp up the meals with modern twists and epic views. By climbing the Harbour Bridge, you will get a clear bird's-eye view of Sydney's projections at night. You just need a Vivid Climb Vest to reflect light and form part of the city's light shows. Cruise boats, ferries and water taxis feature bright lights, particularly during the Vivid Sydney festival. The festival will not end without you experiencing the stunningly beautiful 3D light projections and the harbour from harbour cruise comfort.
Unlock your imagination power with Vivid Ideas
Vivid ideas in addition to the public light shows and the annual innovation and creativity show. Expect over 200 events and around 400 speakers. The diverse program brings together the creative industries of Australia such as architecture, design, animation, film and advertising. People from the industries meet to mingle and exchange ideas. You too can get more ideas on how to improve your business or personal life.
Enjoy the performance of world artists at the Vivid Music
The Sydney Opera House hosts many International and Local artists who form part of the Vivid Music. The previous hot-ticket performances have seen likes of Solange, Cat Power and Ice Cube. The large venues and small bars host eclectic collaborations and live performances.
Getting to the festival
The see the Vivid Sydney in a better way, you will have to walk or use public transport. To witness the centrepiece event, which is the Opera House sails lighting, choose one of the city stations of Sydney, Martin Place or Wynyard. They are all short walks to the Circular Quay. For easier and faster access to some other venues and precincts, you have to stick to public transportation. Vivid's transport information will help you plan.
Be ready for streets flooded with Instagrammers, Youtubers, tourists and winter couples between May 24th and June 15th 2019. The Vivid Sydney has trended for the last decade and this year, luminous installations will shine every night between 6 PM and 11 PM in addition to itinerary of gigs and talks for the winter festival. The glowing trails stretch from the Darling Harbour to the Botanic Gardens. Tour the Taronga Zoo and Luna Park and pop-up at Chatswood to witness the many interactive displays. To get amongst it, remember to stop at one of the award-winning bars in Sydney for bar snacks and booze-fuel so that you can prepare for Circular Quay crowds.
Why not arrive at the festival in style in one of our luxurious fleet of limousine vehicles? Get Chauffeured has a wide range of vehicles that are appropriate for any occasion! Organise with our team and get started today!
First impression: Why They are Important and Why You Should Care
We all have heard of the old saying that you do not get a second chance to make a first impression. The first impression will influence how people view and treat you. Within the first few minutes of interacting with someone else, whether it is verbal or nonverbal interactions, people have already formed passed a judgment of you are. These judgments will be an influencing factor of how they will interact with you that day and during later functions or events. First impressions are mainly influenced by different factors such as;
Clothing and accessories
What you wear has a huge impact on how people view you. If you dress like a successful person, people will perceive and treat you as a successful person. On the hand, if you dress inappropriately, people may think less of you and disrespect you. Accessories also play a big role. For men, a nice watch is key to portray a good first impression while for ladies a trendy handbag, good jewellery and a nice watch is key. To leave the right impression, it is important to dress for the occasion.
Posture and handshake
Posture may be a subconscious thing but they say much about us. A straight and upright posture portrays confidence while a slouched and hunched posture makes one appear timid and indecisive. A handshake also says a lot about a person since it is the first interaction that you have with the other person. A firm handshake may portray a confident and friendly personality. However, it is important to understand how firm the grip should get, you do not want to hurt the other person.
Facial expressions
Facial expressions speak louder than our words. Maintaining eye contact with the person you are interacting with portrays confidence and interest to what the other person is saying. However, you do not want to scare the person away with long stares. Smiling is also a way to show you are an approachable person and you have a friendly personality.
Punctuality
People do not care about the excuses you give for arriving at a meeting late. They may assume you are an unreliable person who is not able to manage his or her time properly. Getting to a meeting on time, especially when you are meeting people for the first time, shows respect. Keeping time may also show that you are a dependable person that people can trust with other important matters.
Reasons why first impressions are important
1) First impressions last longer
Most likely, we remember people by how we met the first time. We are more likely to remember and trust people who treated us well at the first meeting compared to people who disregarded us.
2) Great first impression lead to social cohesion
Positive first impression is a ground to build up relationships that may last longer on life. A bad first impression, on the contrary, may lead to biases and social prejudice. Bad first impression can result in the development of negative feelings and attitudes that may hinder the opportunities to build a relationship.
3) A good first impression will help your audience to trust and respect you.
For instance, a public speaker who attends a meeting on time and is well dressed will earn favour with people who he is addressing and create a rapport faster. One who is inappropriately dressed and uses the wrong language, on the other hand, may appear incompetent and unprofessional. Therefore, people will form a judgment and not believe whatever he is saying.
It is very important for you to care about the kind of first impression you portray. People will interact with you depending on how they judge you from the first few minutes of interaction. To create a great first impression while attending either general events, corporate occasions or weddings, you should consider using Get Chauffeured for your means of transport. Get Chauffeured is made of professional chauffeurs who are dedicated to providing you with luxury travelling that is also both comfortable and stylish. They have a fleet of cars including, executive sedans, stretched limos, minibuses, luxury coaches and helicopters tours. Arriving in style to an event will create a lasting impression that will earn you respect.
Call or email us to get started! We are quick to respond and provide you with guidance for your perfect accommodation.
5 Ways to Spoil your Mum This Mother's Day
Mothers are special people in our lives. They are best friends since day one and they live selflessly to ensure we are comfortable and well nurtured. You may think that growing up their love diminishes with time, but the opposite is true. Despite our age, they will always call to ensure we are eating healthy, sleeping enough, working hard and living a well-balanced life. Whenever we have problems, we turn to them for comfort and advice on how to get through.
It is always our desire to pamper them and show them love, however, with the busy schedules, work and other responsibilities, this is not the case. That is why on the one day, 13th May every year, Mother's Day, most people want to treat their mothers to show their appreciation. Every year, it seems harder and harder on how you can treat and appreciate your mother. That is why we have compiled five ways on how you can spoil your mum this Mother's Day;
1) Good Food
The old adage, food is the way to a man's and (woman's) heart is true. Treating your mum to good food is a great way to appreciate her for the many delicious meals she has prepared for you. You can make her a delicious meal as she relaxes to good music and wine. Collect one of her best recipes and treat her for breakfast in bed, and a delicious dinner. If cooking is not one of those things you do best, you take your mum out for dinner at her favourite restaurant or surprise her by researching other great places that offer her favourite dish. Allow her to eat whatever she wants and get a break from the kitchen for a day. Or you can take her out to a fancy restaurant with a view in Sydney.
2) Hot Stone Massage
It is not good to assume that simply because all the children have left, mum is lonely and all she wants on a special day is to be in a crowd. Therefore, you can treat your mum this Mother's Day by paying her a hot stone massage. This will allow her to enjoy quality 'me time' away from home as she unwinds. Hot stone therapy is a pampering treatment that she will not forget.
3) Beauty
Women always want to look good despite their age. However, things can fill her plate that she forgets to take care of herself at times. This Mother's Day, you can spoil your mum by taking her to a beauty salon for hair treatment. You can also take her for pedicure and manicure, allow her to relax as someone treats her feet and hands. You can add a personalised facial that specifically targets your mum's skin problems to help her relax and make her skin look more radiant. This beauty treatment for your mum will probably make her feel younger and more energetic.
4) Gifts
You have probably always bought your mum a flower every Mother's Day and you want to do it differently this year. There is a variety of gifts that you can pick from for your mother. However, make sure you buy her something she will love or something she has always desired to have. You can buy her accessories to match with that outfit she does not wear because she never gets the right accessories from her collection, or get her a good signature perfume that she will always wear with pride. You can also buy your mum culinary tools that she always wishes she had. To make the gift more interesting, you can go shopping with your mum on Mother's Day so that she can pick items that she loves.
5) Attend an event
Just because she has advanced in years does not mean she would not love to go out. To treat her on Mother's Day, you can take her out to watch her favourite artist, show or movie. Instead of asking her to meet you at the venue or picking her, you can get her chauffeured by hiring a limousine to drop her at the event in style. Wondering where to get a limousine, Get Chauffeured, a group of genuinely dedicated professionals who are trained to create an ambience of luxury, style and comfort with each of their vehicles, got you covered. This will create an atmosphere of luxury and style for your mum as she attends the event.
We all have moments when we want someone to pamper and treat us nicely, and this applies even to our mother. Mother's Day is one of those days you can treat your mum and pamper her. However, continually remind your mum how much you love and cherish her throughout the year.